Epoll WP Voting Plugin 3.0 Documentation & Startup Guide
See Below Read Carefully & Implement Easily

 
in case you need any support please give us a call / whatsapp on +91-8439221651  
 OR email us at [email protected] OR Connect with us on Facebook Messenger https://m.me/infotheme OR https://facebook.com/infotheme  
We Typically Reply within 2 to 4 hours 24x7x365 
How to Install Epoll Voting System Pro & Activate License
It's too easy to setup once you will buy this, You will receive an email with license key "Eg: ITWCMODS123456789".
And Download Link of plugin, or you can get it from your email or My Account. Once You will get zip file you can go to wp-content/plugins/ upload here. Or you can login to your websites dashboard "http://youwebsite.com/wp-admin/" In left hand side you will see menu named plugins. Click on that and then click to add new button and Click to upload (But before doing this entire process please deactivate Epoll Wp Voting System's previous Version if you have else you can directly upload and activate this plugin).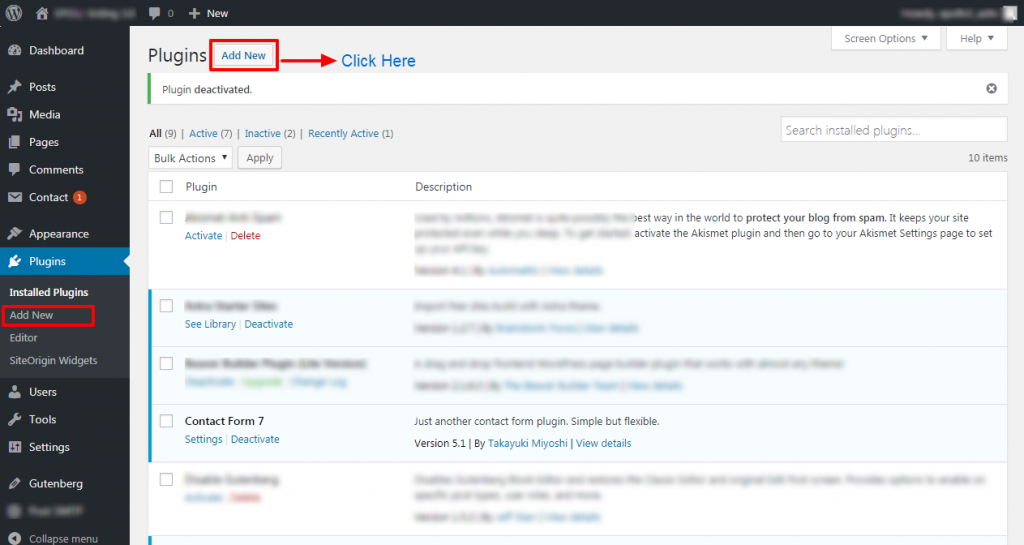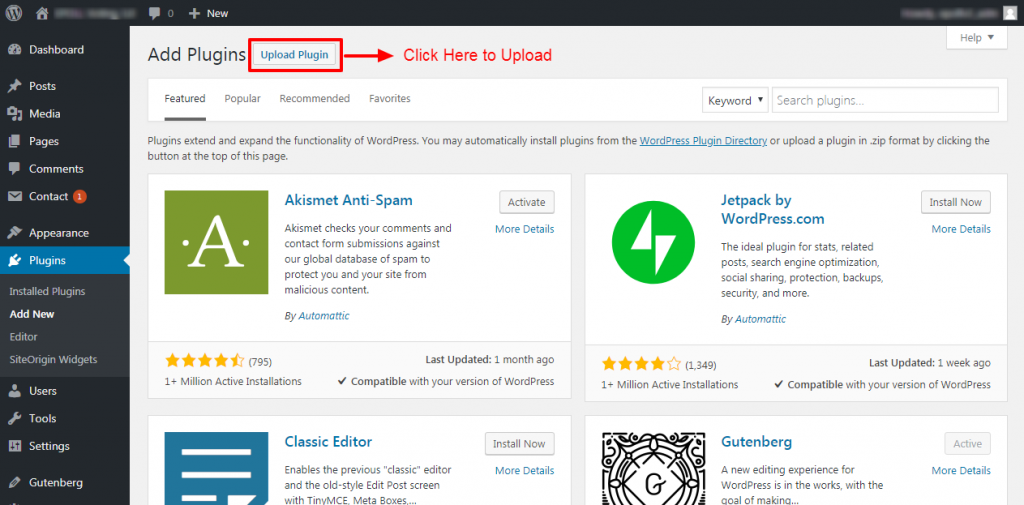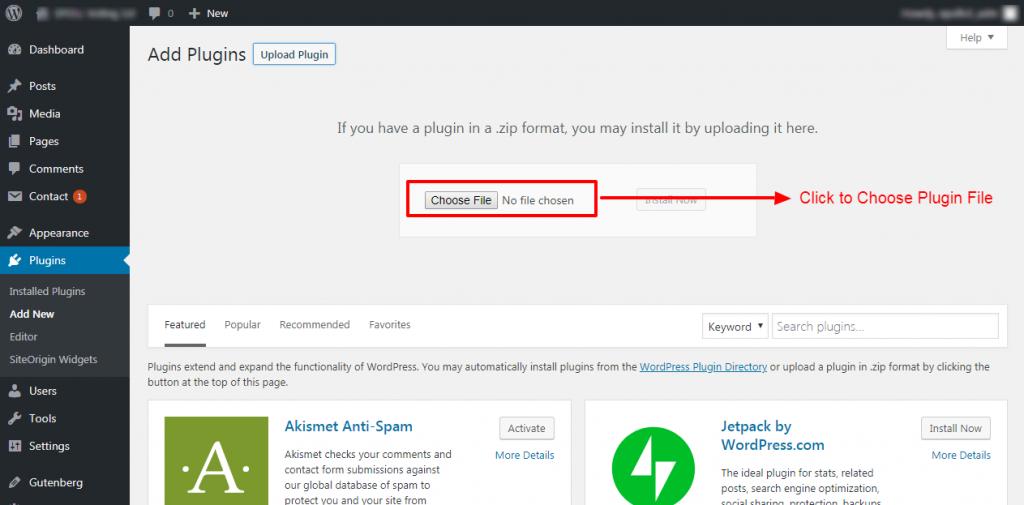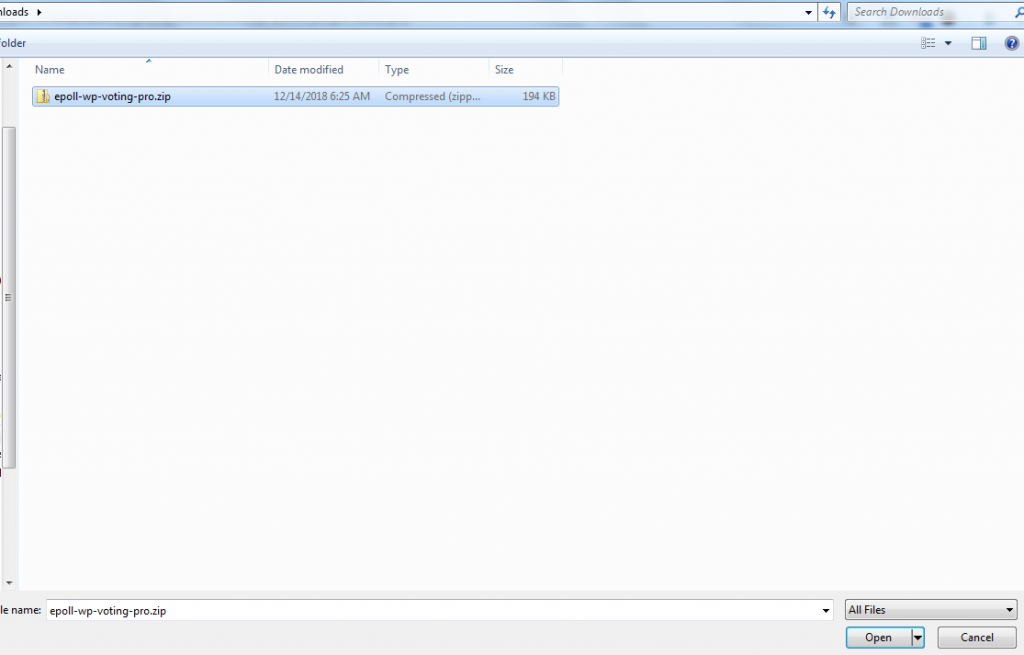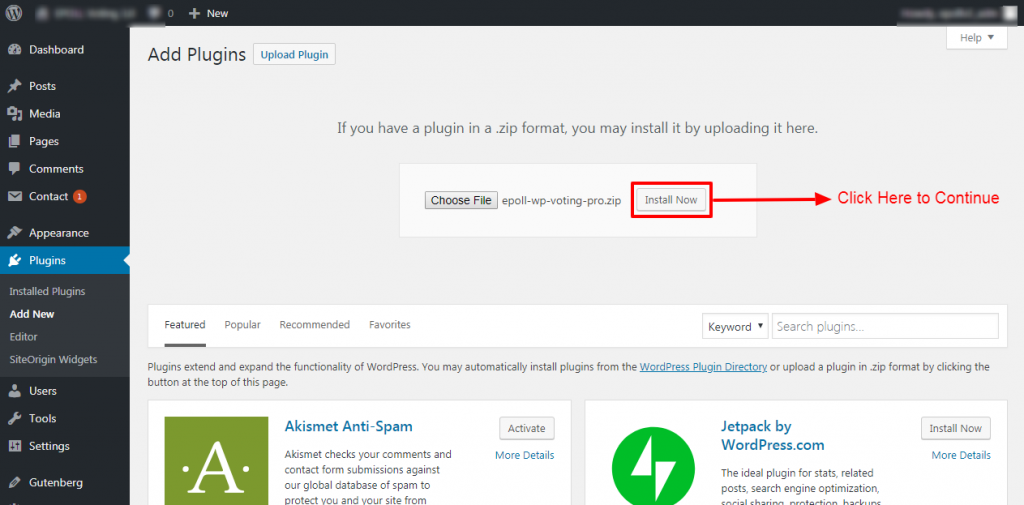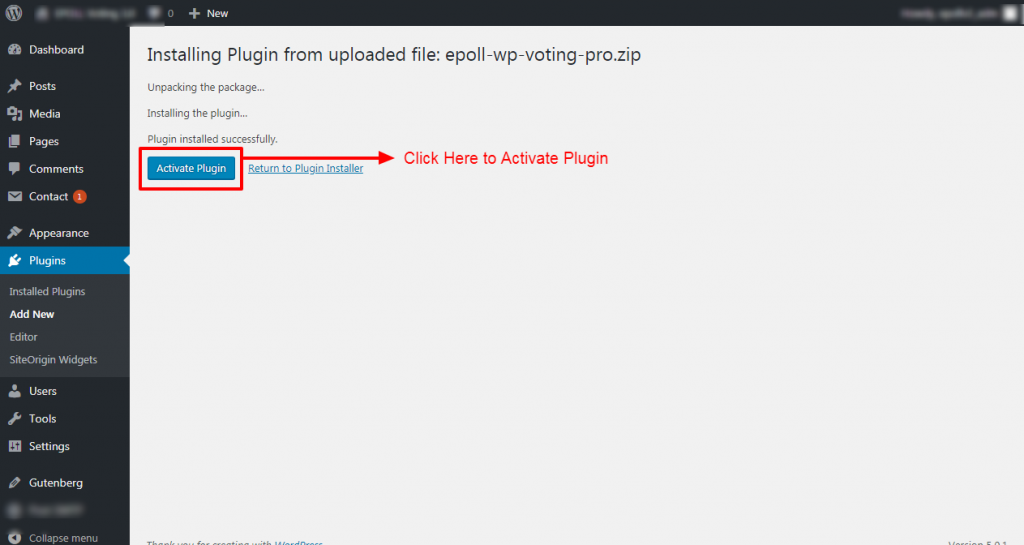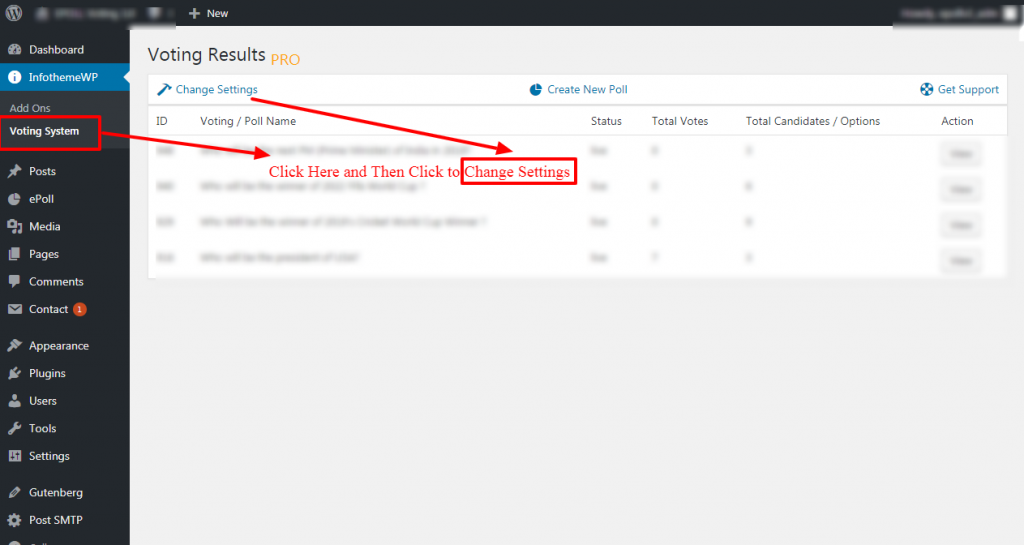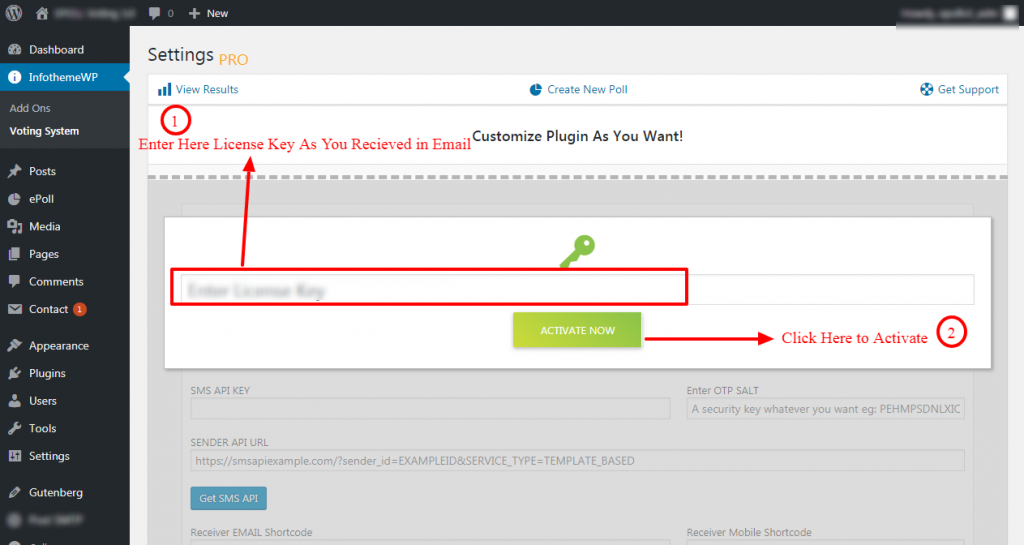 Once activating this plugin go to InfoTheme WP menu -> in sub menu you will see voting system -> settings "You can activate this plugin's pro features by inserting valid license key."
How to Add Poll in Plugin
Once you will activate plugin in wp menus you will see, "ePoll" Click on that and Click to Add New. Just use features of plugin as you want like: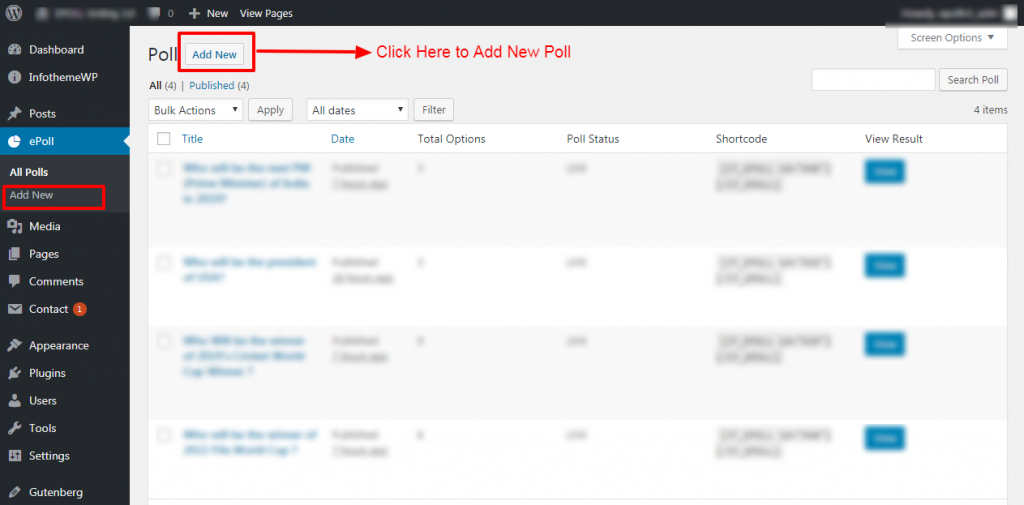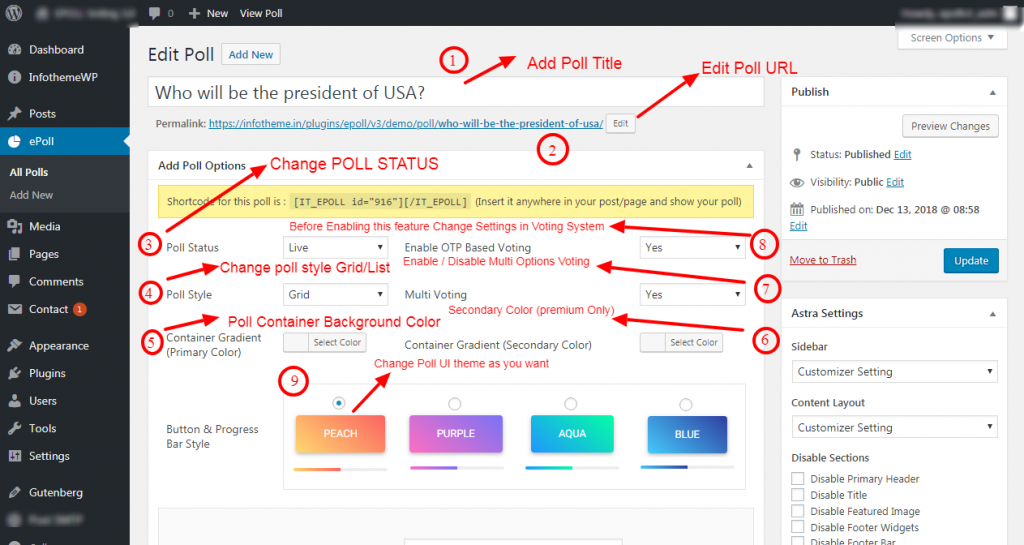 Voting Status -> Live (For Live Poll) / Ended (When Poll Ends)
Enable OTP Based -> Select Yes if you want OTP (One Time Password Based Voting Validation from Mobile / Email) based voting (But don't forget to enabled it from Settings of plugin)
Voting Style -> Choose Grid View (for better presentation with images), Choose List view for optimal use.
Multi Voting -> Choose Yes (If you want that voter can vote for more then one option/candidate in a single poll)
Choose Background Gradient -> Choose color of background gradient from color picker according to your choice.
Choose Button and progress bar UI Style -> Choose this as you want to go with. It will change User interface of buttons and progress bar also it will show a cover related to UI (but it won't show cover color if you will put there cover images in options)
How to Add options
You can add options once you will jump in add new page "If you are already there you need to click into Add Option Button".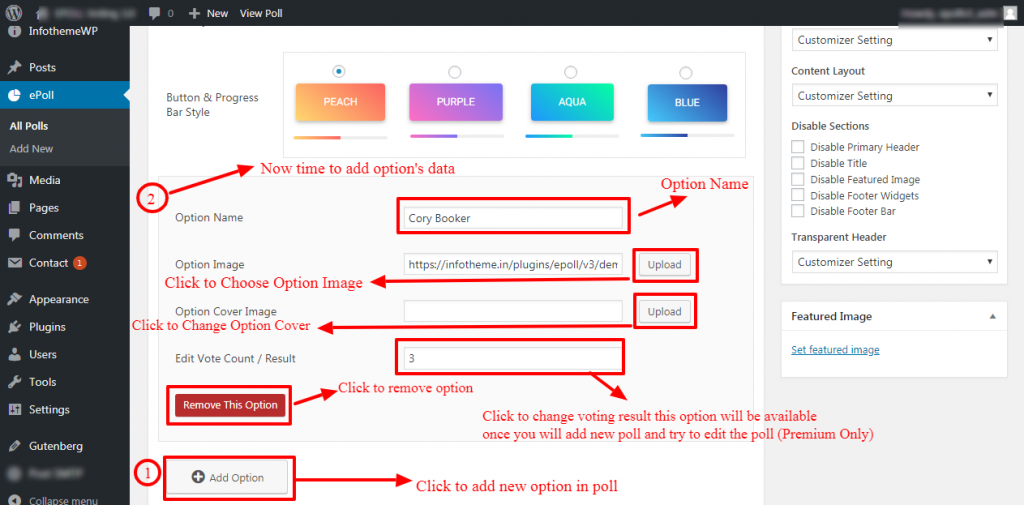 After clicking there, you will see a box appended with Option name , Option Image and Option Cover Image
Option Name -> Eg : Option 1 (If poll is who will won cricket world cup final then option name may be India)
Option Image -> Here will come the image of option as you have it you can just click to upload button and proceed for uploader and then click to "Insert Button".
Option Cover Image -> Here you can set cover background image for each option separately
If you want to add multi option as you want you must click and you will see there options fields as per click "Currently Options position change is not possible via drag drop but you can manipulate your data as you want".
Once you will done with all settings you want to put in add new poll section just publish it. And you will get an Poll Shortcode there which you can directly place into Posts and pages to show multiple poll's in a single page.
How to Add Poll into Posts & Pages
Now you can go to add new post section and page section in middle of content you can add poll you will see there "A button in WordPress Classic Editor / Default Editor". There you can put poll id in prompt and place it in post where you will see shortcode.
How to view results of poll ?
In Dashboard you will see a menu named InfoTheme WP there you will see Voting System Sub Menu click on that and you will see results of voting now you can click to view button and see poll results. There you will see who is Winner. You can also see voter's details there if you have enabled unique voting from settings then you will see IP based result and once you will enable OTP based voting your choice of data will be shown to you.
How to change settings of plugin ?
There are lot's of things to understand whenever you want to change setting of plugin.
Enable Unique Voting – > If you will click yes it will allow voters to single vote from a single IP (IP Blocking Voting Plugin feature). If you will allow multiple voting for a plugin then voter can vote for multiple options at single time.
Disable Branding -> We just set our plugin's lite version's download url in it. You can disable it in Pro Version.
Show A Poll in Popup -> You can choose a poll which you want to show in popup it will create a popup in your website and will show to everyone once in a day.
Enable OTP Based Voting -> Here are four options where No => Means Don't enable. Email Based Means OTP will send to email, Mobile Based will send to mobile and Both type OTP means it will send OTP to email and mobile both.
SMS API Key -> Get sms api from bulk sms service provider and ask them for api key.
Enter OTP Salt -> It's a security salt used to create OTP (You can use any random hash string like "43343732kjdhjdsdsASSD3ds") or leave it empty.
Sender API URL -> Ask to your sms api provider for an http request based api user "Put that without message and mobile and api key parameter" (If you want help on this contact us anytime at infotheme.in[at]gmail.com) or visit us https://infotheme.in
Receiver EMAIL Shortcode -> When you will build an otp form "You need to put their an email field copy the id of field and put like this instead of ba16 you need to put id of that"
Receiver Mobile Shortcode -> When you will build an otp form "You need to put their an phone field copy the id of field and put like this instead of ba16 you need to put id of that" (Remember these two fields will help receive email / phone based otp )
VERIFICATION EMAIL -> You need to create an email format which will sent to your customer (If you have worked in contact form 7 previously then Our OTP Form builder is same as that) here you need to use fields provided in Yellow Strip Line (But keep in mind it will show there once you will create form via builder which is below this).
314041 = Use for OTP CODE ,
= User for VOTED OPTION,
Documentation = Use for Poll Name
VERIFICATION SMS TEXT -> It is same as previous you have to manage sms according to your need.
REDESIGN CONTACT FORM (OTP FORM BUILDER) -> You can customize your form according to your need but we recommend less fields in it like Form Title, NAME, PHONE, MOBILE and Submit button which will looks great. You can design it according to your choice in next to builder you will see preview of form.
During Form design process if you will miss something click to reset design button and create form again. Keep in Mind fields will required as per your otp requirement "Like if you have both type otp enabled you need atleast one email field and one phone field and submit button is must in each and every form"
That's all click to save changes button and enjoy the plugin's features, but in lite version of plugin you can't enjoy the plugin's feature of settings.
How to Configure Email OTP
Please check the below given screenshots: You can download email template from
https://infotheme.net/upgs/774jdjujcxhjd7u3hjhdhdjshs/
If you still not receiving email, then please check your administrator email address from -> Settings -> General -> it must be like [email protected] if you are not recieving email then use "PostMan SMTP WordPress Plugin" and you will won. If you want us to do that please pay us PRO Support Charge 15 Euro at https://paypal.me/infotheme
SMS OTP Verification
For SMS Configuration Please Contact with us and keep in mind you need a third party service for SMS OTP Service.
SMS OTP Verification with Twillio
Please buy the twilio addon directly @ just Euro 50 pay us directly here and we will configure sms otp for you free with this addons
Get SMS API (Get 10$ Free Credit) https://www.twilio.com/referral/AYMSB6
Get Twilio Add On pay EURO 50 -> https://paypal.me/infotheme